It was cloudy with rain on the horizon when I headed out to Boundary Bay to try for some more shots of the Buff-breasted Sandpiper and Ruff. Both had been seen earlier in the day. As I was about to head down to the beach,
… this female Coyote trotted by.
Once it had passed I headed west to the pilings and there was no sign of either the Buff-breasted or Ruff. So I headed back all the way to 112 St. and still nothing.
Fortunately there were lots of Pectoral Sandpiper around today.
So I settled in with one group,
… and got a few photos of one cooperative bird.
Even tried my hand at video for the first time in the field with the new camera when the Pectoral Sandpiper settled in next to some Least Sandpipers.
Not wanting to give up I headed all the way back to the pilings. Brian was tagging along on the dyke while I remained on the beach,
… and just west of the pilings we located the Ruff.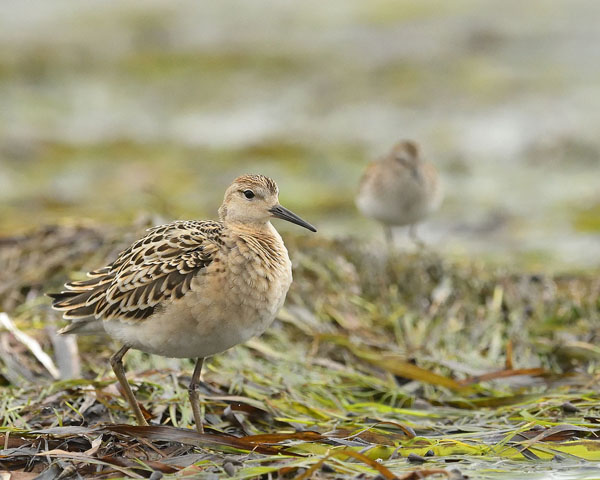 While it was busy foraging with some Pectoral Sandpipers initially,
… it settled down in one area
… to do some preening. As it was staying put,
… figured I would try my hand at some more video before calling it a day. The timing was good as I got back to 104 St. the rain started.