On the tidal flats at Boundary Bay prior to the high tide there were lots of shorebirds around again this afternoon.
The only ones that seemed willing to cooperate with me were some Baird's Sandpiper.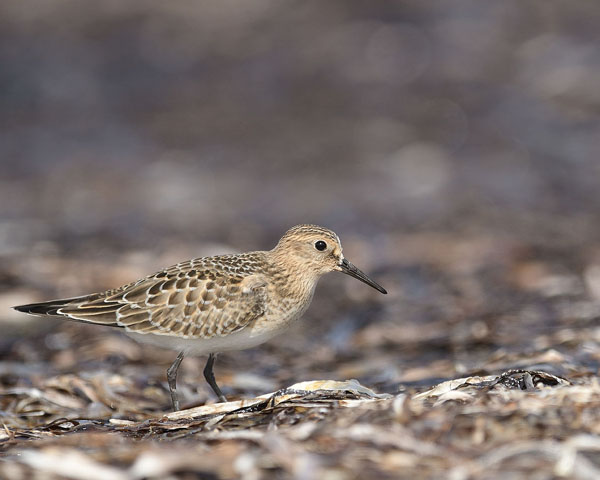 With a little patience they settled in with me there,
… continuing to forage amongst the seaweed.
As the tide came in I met up with Roger and John who had been watching the plover flocks. They had seen the Red Knots and Marbled Godwit that have been around the last few days. Neither them or myself had seen a Buff-breasted Sandpiper. We all headed back up on to the dyke and headed west towards the pilings. In that area Roger spotted a juvenile Ruff. We saw it fly west, circle high overhead and then drop back down to the beach. After checking all the way to 96 St. we could not relocate the bird. Roger left us at this point and John and I headed back still trying to relocate the Ruff. He had also heard from another birder that there were four Buff-breasted Sandpipers to the east closer to 112 St.
Just west of 104 St. we came across Mike who had located the Ruff.
Not wanting to spook the bird I stayed up on the dyke initially.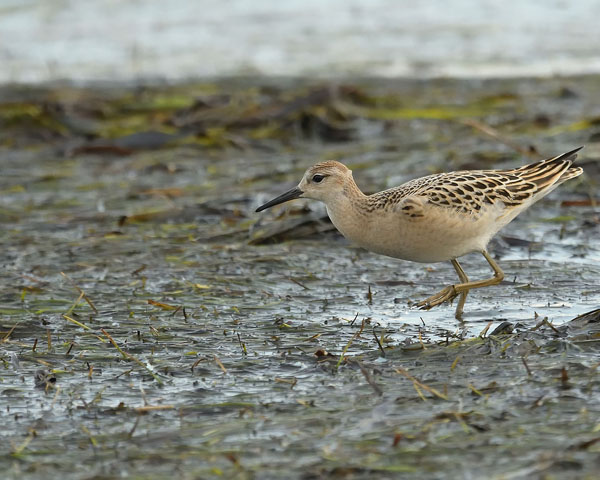 After almost an hour of watching and photographing,
… I had an opportunity to move down from the dyke amongst the logs.
This provided a closer and better vantage point for photos.
Cannot ask for much more than this with a fairly rare visitor like the Ruff.