After a couple of weeks of being busy, I managed to get back out to Boundary Bay this afternoon. Arriving about two hours prior to the high tide I made my way west along the beach from 104 St. After several minutes and encountering only a lone Pectoral Sandpiper roosting in the seaweed at the high water mark, I was starting to wonder if much else would be around. Then I did see around a dozen American Pipits working their way along the beach. Then I came across a small group of resting Least Sandpipers, but carried on towards the pilings. While approaching them a Greater Yellowlegs flew in and started foraging for food. I carried on a little further and scanned ahead and could not see anything else on the tidal flats, so I made my way back to the pilings and the Greater Yellowlegs.
It was still busing foraging for food,
… and provided a couple of good photo opportunities. By this time the tide was coming in fast, even though the high tide was still over an hour away. Not too far off I could see the Least Sandpipers were active and made my way back to them.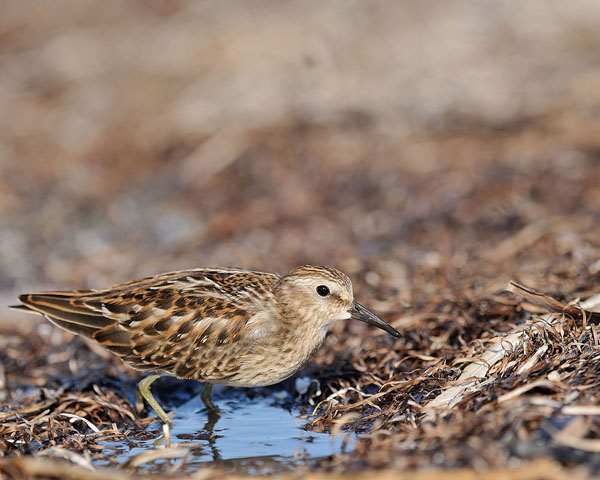 Like me they were trying to avoid the rising water levels. After being flushed briefly by a passing Northern Harrier they returned and landed right in front of me. They were more than cooperative allowing me to tag along and photograph in close proximity.
Close is good when photographing these little guys. Being there when they returned and keeping any movement slow and to a minimum probably helped. By now the rising tide was almost to the top of my rubber boots and it was time to head up on to the dyke. Despite there not being much around, I still managed a couple of nice shots.