After a morning errand I waited for the rain to subside a little before heading back out to Reifel for an update on the Sandhill Crane nest. Unfortunately the news was not good. The second chick did not hatch successfully or survive.
On the brighter side the surviving chick made its first swim from the nest to the bank of the pond. As luck would have it I just missed that, but was in time for the climb out.
After the successful ascent,
… the adults promptly started feeding it worms and other tasty morsels.
After watching the Cranes I decided to check for some Western Tanager that had been sighted. While I had no luck locating them,
… there were still good numbers of Wilson's Warbler around.
This one singing and posing briefly in amongst the trees and bramble.
Then something else caught my eye low in the trees, a flycatcher. I managed some quick views with the binoculars and then a couple of shots. Unfortunately it did not sing or call, which can make identifying these small empids difficult. At least for me anyways,
… but I believe this one to be a Hammond's Flycatcher. Then I spotted a larger flycatcher that was moving along the tree tops and snags. Given the horrible back lighting at first I could not identify it. Following it along the trail the lighting improved somewhat,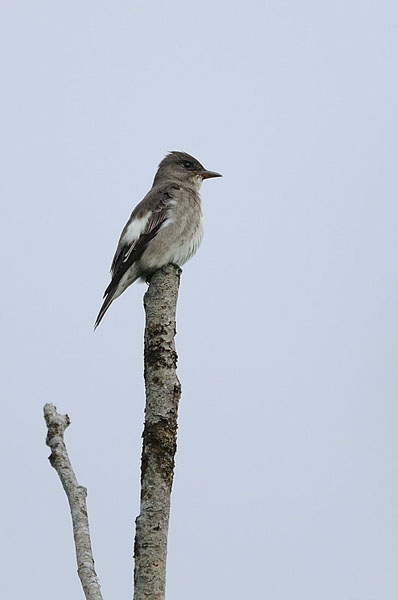 … and I was able to identify it as an Olive-sided Flycatcher.
While the photos are not great, it is a new addition to my life photo list. Just after this it did start to clear up a little, but it was after 4:30 pm and time to leave.
Just for fun on my way out this Red-winged Blackbird singing in the marsh.