Well it was a gloomy wet day and the lack of visitors at Reifel reflected that when I arrived to help out this afternoon. As I started out down the east dyke trail, nobody else was around. Nobody people wise anyways,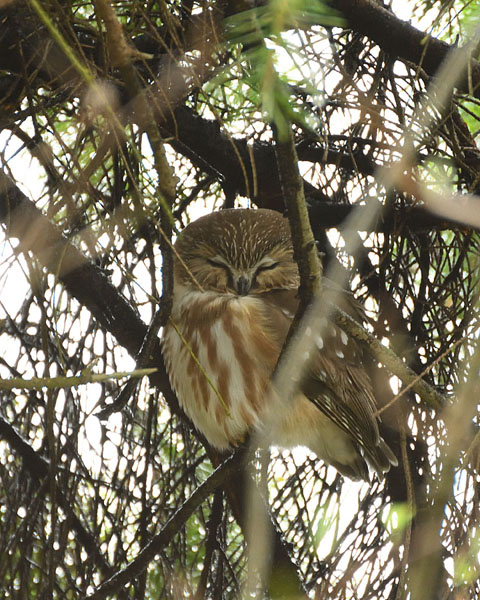 … but this Northern Saw-whet Owl was tucked away trying to stay dry. While I have seen a few this winter, none have been in good spots for being able to get photographs. Today's Northern Saw-whet Owl was not much better as it was roosting behind several branches. Fortunately I had my 70-300 mm zoom today (to be able to keep the camera under my jacket). It was a little more flexible in getting an angle than the larger lens and tripod would have been.
The other highlight along the east dyke trail was a Eurasion Wigeon in a large puddle along with some other ducks in a field on the Alaksen side. Did chat with a few of the hearty birders that did venture out and there was no other sightings of note. The only other excitement was at the end of the day when I almost got knee capped by a Cooper's Hawk that blasted by in front of me as I approached the entrance.