Another Sunday afternoon volunteering at Reifel. The skies were a little overcast at first, but there were still a good number of visitors. While still on the cool side, there were definite signs of spring in the air with the Marsh & Bewicks Wrens singing, Swallows flying overhead and even a Bushtit nest under construction. The American Bittern was still showing along the outside dyke, although a little more hidden when I saw it. Back along the east dyke trail,
… I managed this shot of a Brown Creeper as it foraged along the tree line. But, once again, the highlight of the afternoon for most visitors was a Northern Saw-whet Owl. It was not too far off the trail in some overhanging branches and in plain sight. While it spent most of its time sleeping,
… there was a moment when something got its attention briefly.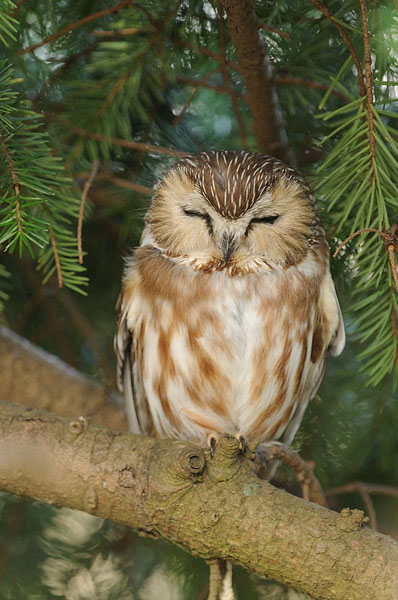 Then it was back to sleep again. A winter visitor, The Northern Saw-whet Owls are usually gone from the sanctuary by the end of this month.