Late this afternoon I headed out to Boundary Bay for the high tide. I was a little late as when I arrived the tide was already up to the dyke. Then I was greeted by a group of birders already there who promptly joked how I could turn around and go home as there was nothing there. Not exactly the way you want to start. We chatted briefly and some left to check out other areas.
I decided to stick around and headed west along the dyke. Only a few minutes in to my walk I noticed something brown in amongst the Ring-billed Gulls.
It was a Whimbrel. I had seen one fly by about three weeks ago, but it did not land. This was a good start considering nothing was around earlier. While watching and waiting to see if the Whimbrel would move in to a better spot,
… a Peregrine Falcon swooped in and flushed everything including the gulls. So much for a better shot of the Whimbrel.
Further along the dyke I noticed a few different species of sandpipers around the old pilings. I slowly worked my way down to the beach and set up.
The first to wander in fairly close was a Baird's Sandpiper.
These were the first Baird's I have seen this season.
And so far, so good with the birds not being to concerned with my being there.
Next up in this group were some Least Sandpipers.
They have been frequenting the bay for awhile now.
Another first for this season in this mixed group were some Pectoral Sandpipers.
They were also quite cooperative and unconcerned with me.
The bonus birds,
… were three Ruddy Turnstones.
While watching the Turnstones, this Pectoral Sandpiper wandered by in front of me.
Then it was back to the Turnstones,
… for a couple more shots. It was nice being a little closer to them than last week. This was turning into a good afternoon when,
… the Peregrine Falcon made another pass along the dyke flushing everything again.
At least I managed a couple of flight shots. After this I started back as some plovers were starting to land in that area. I met up with a couple of other birders still around and we managed to spot a Godwit amongst the plovers, but it far too distant for any photos. While continuing to scan the beach area I saw the Whimbrel fly by and land back in the area I had just left. Wanting to try for some better shots of it I headed back.
Once again it started off amongst some Ring-billed Gulls,
But soon moved off on its own,
… while foraging along the beach.
It was a little leery of me,
… but did not mind providing I did not push the boundaries. This is something you have to watch and get a feel for with each bird.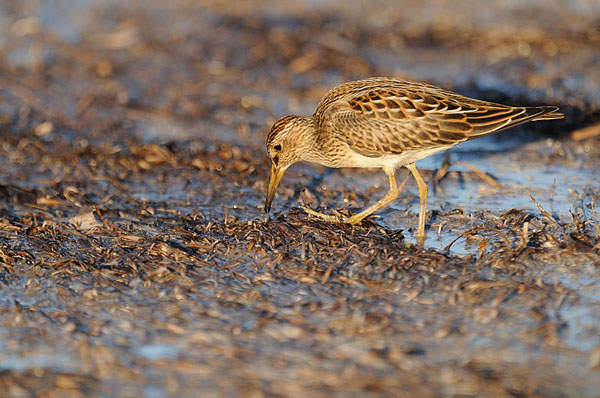 While taking these last shots of the Whilbrel I wandered right into to some more Pecs.
The light was fading now and it was time to head back. Considering initial indications were that nothing was around, it turned into a great afternoon and fairly lengthy post.