First a follow-up on my last post. Thanks to those that e-mailed and spoke to me in person confirming the Red Knot. Nice to finally add that bird to my life photo list.
A fairly rare bird to this area that has been frequenting Boundary Bay for some weeks now has been a Bar-tailed Godwit. I just have not seen it on my last few visits to the bay area. Today on the high tide it was present along with the usual Black-bellied Plovers. The problem being it was roosting on a fairly distant hummock. The birds were a little skittish and kept flushing and then returning to roost again. The tricky part was keeping tabs on the Godwit when they were all on the move to see where it landed.
After one such foray it finally landed in some eelgrass that was a little closer. I moved down to the beach and waited to make sure the Godwit and Plovers had settled. Then slowly moved out towards them.
The Bar-tailed Godwit was resting peacefully amongst the plovers. Now it was a matter of waiting to get it with its head up.
It eventually did look up and not long afterwards,
… something seemed to get their attention and they flew off after this shot.
Already being down on the beach I figured I might as well try for some Plover shots.
Today some seemed a little less anxious about my being there.
Others still would not let me get too close.
But this one on my way back,
… did not seem to mind. And just before I headed back in to the dyke,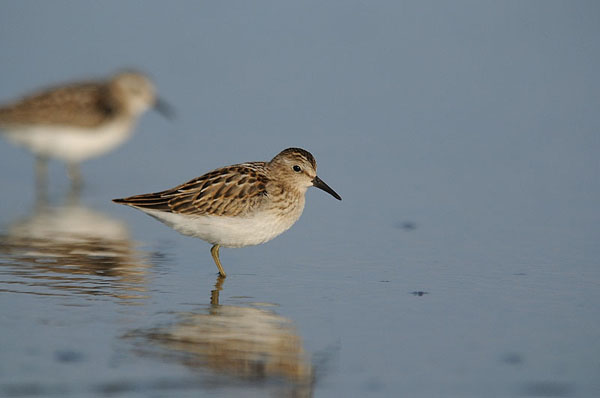 … some Least Sandpipers landed beside and in front of me providing this last shot of the afternoon.